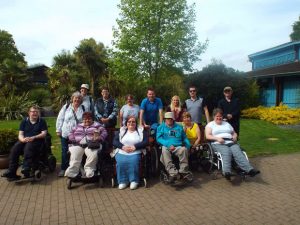 Oxford Phab is a social club which aims to bring together people of all abilities to take part in a range of activities and get to know each other better.
We are always looking for new members, disabled and non-disabled. If you want to make new friends, meet interesting people and regularly attend an active social club then come and join us.

The Phab aim
"To promote and encourage people of all abilities, to come together on equal terms, to achieve complete inclusion within the wider community"
---
Oxford Phab is a Registered Charity No. 1021037
Oxford Phab is one of about 140 clubs affiliated to national Phab.
The Oxford Phab website is licensed under the terms of the Creative Commons Attribution ShareAlike license.