We had a club holiday in Holland from April 18th to 26th 1992.
We hired an accessible coach, which took us from Oxford to Harwich on the 18th. A little group of us went to the Captain's Bar, where there was a good live group. We then boarded the ferry, travelling overnight to Hook of Holland.
Sunday 19th – arrival in Holland, Floriade and Ten Anker.
We awoke on the ferry at about 6am,  got up and had breakfast (bacon and eggs, for those who wanted). When to ferry arrived we left the ferry, boarded our coach and headed for Zoetermeer. There we were lucky enough to see the Floriade – an exhibition and garden festival which is only held every ten years, in a different location each time. The 1992 Floriade was on a huge site, large enough for us to lose some members, in those pre-mobile phone days, and then to lose the search party.

There were massive displays of tulips and pansies, as well as exhibits from many countries and a tram to get us around.

Once we were all assembled our coach took us to Egmond aan Zee, where we unloaded outside Ten Anker.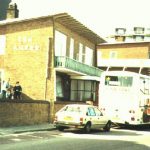 Ten Anker – where we stayed. It has been rebuilt, as you can see from Streetview, but the street is still there.
Unfortunately Ten Anker, the house we were staying at, was – to put it mildly – not very clean. We were also late in the day, so we rushed to the restaurant at the Lido, where we paid 50 Guilders per person  for a 2 course meal, for example soup and schnitzel with paprika (Zigeunerschnitzel). We then returned to Ten Anker to clean thoroughly, before finally turning in for the night.
Monday 20th –  Egmond aan Ze
Reg, our coach driver had a rest day, after all the driving he had been doing, so we explored Egmond aan Zee,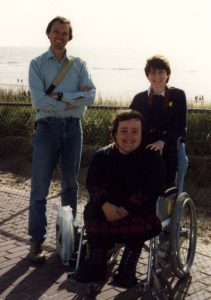 John, Ann and Julie by the seaside in Holland.
Tuesday 21st – Madurodam
We took the coach to Madurodam, where we spent the day, returning to eat cauliflower cheese.
Wednesday 22nd – Amsterdam
We had a little trouble parking in Amsterdam, but succeeded, and visited the Vincent Van Gogh Museum, walked to Leidseplein, and went on a boat trip on the canals.
Thursday 23rd – Zaanse Schans
As we were in Holland we had to see Windmills and Zaanse Schans is the place to do it.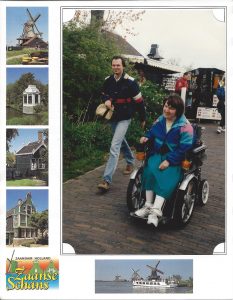 Friday 24th – Alkmaar and Bowling
Another Dutch speciality is cheese, and the best place to experience this is the cheese market at Alkmaar. I think we then visited Spaarndam and saw the statue of the of the boy plugging the dike with his finger. In the evening we went bowling, followed by a disco.
Saturday 25th – Aquarium, pancakes and partying
We visited the Aquarium at Bergen aan Zee, then returned to Egmond, to go into town and have real Dutch pancakes. We then did some tiding and had a party.
Sunday 26th – Cleaning and return to England
We made sure Ten Anker was spick and span before we left, had breakfast in town, and drove to Hook of Holland. We returned on the Stena Line MV Koningin Beatrix to Harwich, and finally back to Oxford.