We had a stall at Cowley Road Carnival, where we sold home made sweets, and had games and a badge maker.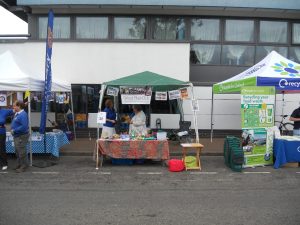 We set up next to Oxford Spires Rotary – a great group of people.  Oxford Phab were one of the charities they supported in 2014.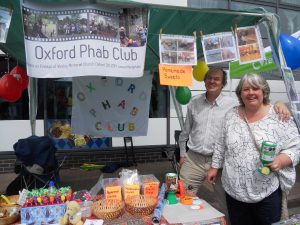 We had publicity material, a badge making machine, home made sweets, lollipop tombola and a 'Guess the name of the bear' competition. Here we are – set up under our green gazebo before the public arrive.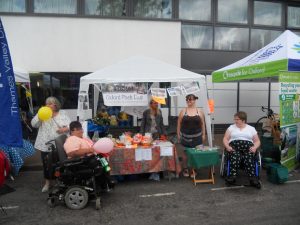 And here is a quiet moment, blowing up Phab balloons to hand out – note that the gazebo is now white ! Thanks to Simon for bringing his at short notice.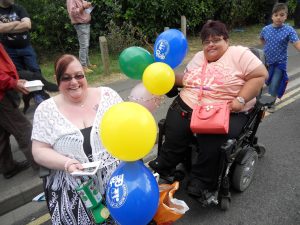 Trisha and Kelly handing out balloons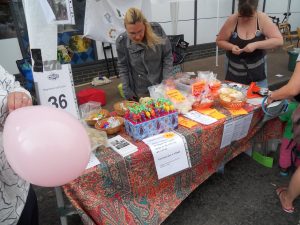 Our delicious array of home made fudge, peppermint creams, coconut ice and other treats, and badges being made.
We had some illustrious visitors: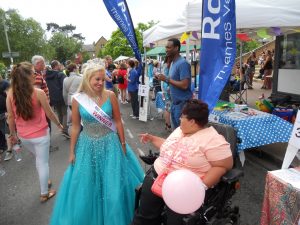 Miss Oxfordshire chatting to Kelly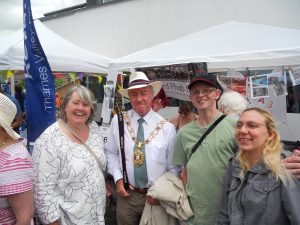 The Mayor of Oxford visited our stall.
Overall we raised over £120, more people have heard of us and seen what we do, and enjoyed our sweets and games.