Avon Tyrrell had (in 2016 when this was posted) a swimming pool, which although it is outdoor, is heated to be comfortably warm – which is great for those of us who lose heat easily.
Unfortunately the swimming pool is no longer in use, possibly due to a combination of rising energy costs and the need to make best use of their trained staff.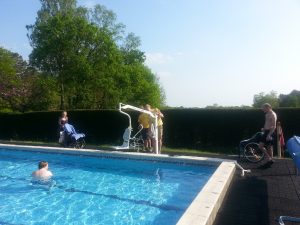 They had a hoist, which can be used with a chair or a sling.
https://vimeo.com/167105277
The hoist in action !
This page was updated in November 2021 to reflect that the pool is no longer available. We enjoyed using it, and are grateful to the support we received from the staff. We still look forward to our next Phab holiday at Avon Tyrrell to enjoy the other activities on their site.