We were happy to have Banbury Phab come to our Easter Disco.
Before anyone else arrived a small team were busy in the kitchen making sandwiches.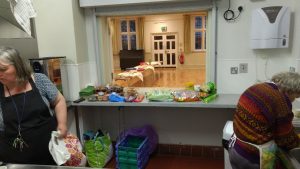 The bread and eggs for the sandwiches and the cakes were donated by Tescos via the Fareshare Foodcloud scheme, while crisps etc were donated by Oxford Phab members.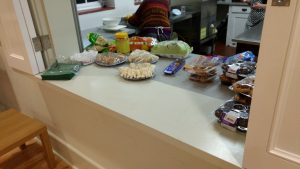 We ended up with quite a spread !

When Banbury arrived our disco got started.
After a bit of disco to work up an appetite we broke to eat, and play some games, such as "Heads or Tails". As usual at Phab the prizes were largely chocolate based !, small Easter eggs, or chocolate bunnies.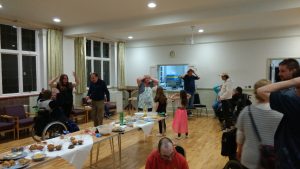 We also had some drawings of Easter Bunnies, which also won prizes.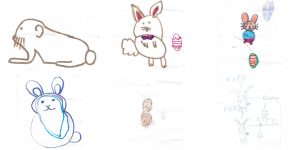 Then we went back to the disco.
Although very dark, if you know there are to wheelchairs circling each other you get a flavour of a Phab disco.
Throwing ourselves into the
Hokey Cokey
with lots of energy !