After our swim some of us played games in the large chalet.

We had a choice of pasta carbonara or pasta with tomato sauce for our evening meal, with salad and home made coleslaw.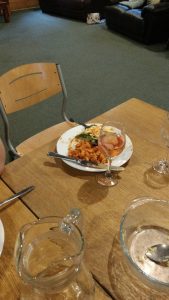 The drink in the wine glass is elderflower and pomegranate, rather than rosé!
After the meal we went down to the campfire site by the lake, and built a fire.
We toasted marshmallows, and sang campfire songs.