Phab, the national charity, which Oxford Phab is affiliated to, celebrated its 60th birthday this year.
Part of the celebration was a Tea Party at Avon Tyrrell, particularly significant as Phab started in 1957, following a National Association of Youth Clubs camp where one of the participants said he wanted "Opportunity, not pity".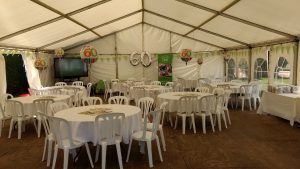 The marquee, decorated for a 60th party, ready for tea.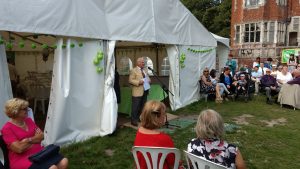 John Corless, OBE, giving a speech, and review of Phab, past and present.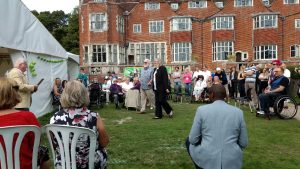 He presented awards to people who had been working with Phab for many years,
It was a great opportunity to get together with Phab people from all over the country and have a reminder of the things that other clubs are doing.
Also being back in Avon Tyrrell gave us a chance to look at the water activities which we did not have a chance to do on our holiday earlier this year, or last year, or in 2015.