On the Saturday of our 2022 holiday at Avon Tyrrell we set off, bright and early, in our minibus and a car for Poole.
We were very fortunate to have been able to book for 12 of our group (the maximum they can take) to go for a trip on The Dolphin III a wheelchair accessible boat which operates out of Poole Harbour Marina. As there were 18 in our group this year we could not all fit, but 3 of us had Scouting or Guiding connections, so were keen to visit Brownsea Island, while the remaining 3 preferred to enjoy the delights of the Poole town waterfront area.
Hence we split naturally into three distinct groups, each having a different experience, but everybody enjoyed the day.
Boat trip to Wareham on the Dolphin.
Operated by volunteers from Friends of the Dolphin, we had been offered a trip to Wareham, where one of our members would land and pick up a Fish and Chip order phoned in from the boat.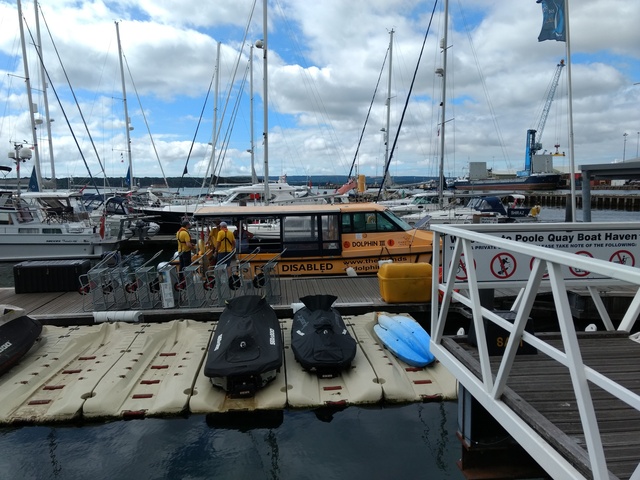 Brownsea Island Expedition
We greatly enjoyed our trip to Brownsea Island, taking the 11am ferry, we landed shortly before 11:30, and noticed we could take a guided tour at 1pm. Pausing only for a refreshing coffee we set off to explore a little of the island. We investigated St Mary's Church, met some friendly ducks, and saw a red squirrel ! (Brownsea Island is one of the few places in England where they can be seen).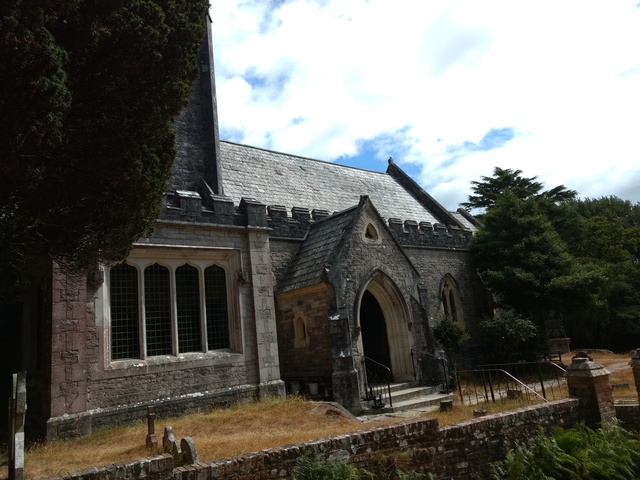 We returned to the castle area to join the fascinating tour, which explained how the mixed history of the island had created its unique ecological profile, as well as the origins of the scouting connection (and we saw peacocks and another red squirrel). We then visited the site of the original Scout Camp, where they also sell Scout and Guide Souvenirs, and we were joined by a peacock and its chick. Moving briskly across the island we caught the 4pm return ferry, and rejoined the other groups.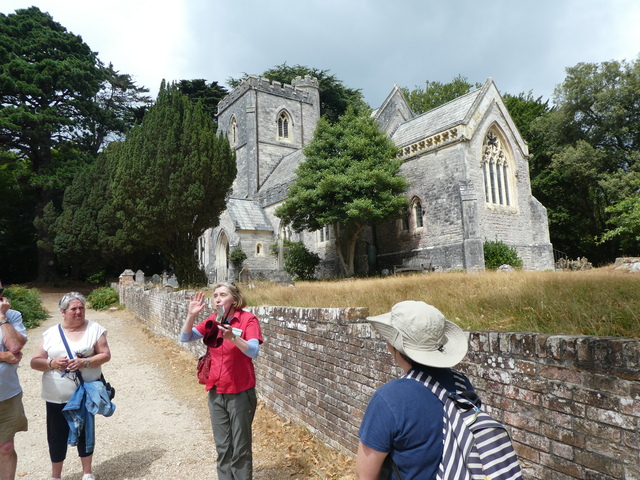 The Shore Explorers
Preferring the stability of dry land, and the myriad delights of Poole Quay, the shore party viewed the departures of the Dolphin and Brownsea groups, and then investigated the shops, museums and cafes of Poole. They ate Fish and Chips on Sea Music, a large sculpture by Anthony Caro, and enjoyed watching the hustle and bustle of boats in the harbour and tourists and locals going about their business.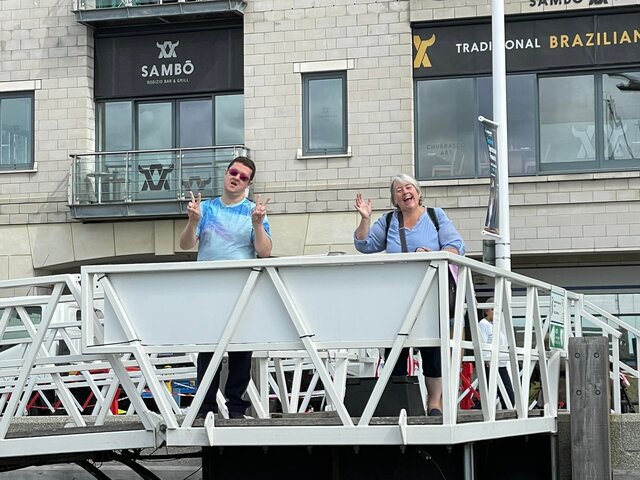 Together again and home for tea.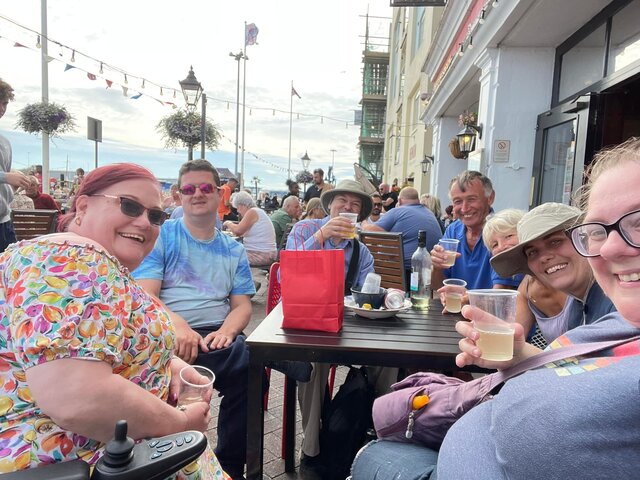 Some of the re-united group had a little refreshment on the quay, and we updated each other about our adventures, before returning to the vehicles and to Avon Tyrrell.
There, hungry after all the fresh sea air, we enjoyed hotdogs (meat or vegetarian according to preference) and salad, and home grown courgettes, in the large communal space in our challet which allowed all our group to eat together.