Oxford Phab club is affiliated to Phab England
Other Phab clubs
We go to Art and Craft Days at Hounslow Phab
Organisations which may be of interest to members
The following groups may be of interest to our members.
Cycling on a range of bikes every Friday 9:30 – 12:00 at the Athletics Track on Horspath road.
Oxford Links
When we are not out and about we meet at Wesley Memorial Church and the church and its members provide not only a place to meet, but financial and spiritual support.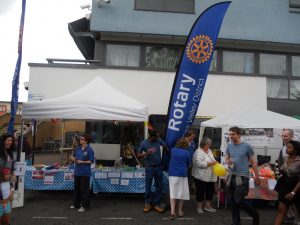 We have had support from Oxford Spires Rotary and were one of the charities they supported in 2014. Here they are on an adjacent stall at Cowley Road Carnival in 2015.
Computer Links
These pages were written on a computer running Debian Linux. The reason I mention it in this section is because I am interested in the ways that computers can be used by people with a disability, and interested in suggestions for improving this. Because the source code for Linux is freely available it provides more opportunities for turning ideas for such improvements into reality.